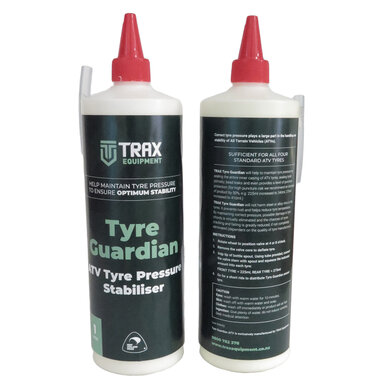 Tyre Guardian 1L
Product Code: TG1
Range / Make: Tyre Sealant
Tyre Guardian 1 Litre
ATV Tyre Sealant - Maintains tyre pressure and stops flats! Helps maintain tyre pressure to ensure optimum stability. Completely safe for any serviceable ATV tyre.
Seals holes in tubeless tyres caused by puncturing objects up to 6mm diameter, which appear in the tread area of the tyre as the vehicle is driven.
Prevents rust, heat build-up, seals porous leaks, maintains tyre pressure, and does not affect tyres or rims. Helps to extend tyre life by the combination of maintaining correct balance, and the prevention of heat build-up in the tyre. 
All you need to do is let all the air out of your tyre, remove the valve core, and squirt in the recommend amount - 1L is enough for 4 x ATV tyres (250ml ea) or 10 standard car tyres (100ml ea).
Tyre Guardian will help reduce rider fatigue by ensuring the most comfortable ride possible from the ATV. It will greatly reduce the draining effect placed on a rider because of having to combat poor control and unnecessarily heavy steering caused by incorrect tyre pressure. 

Tyre Guardian has been developed for ATVs, but can be used in truck tyres to mobility scooters, tubed or tubeless tyres - so act now and stop flat tyres before they stop you!

MADE IN NZ
$54.00 NZD inc GST
(excl Freight)
Print
Email a friend
---